Welcome to our Pharmacy
We look forward to serving you.
Thank you for using Palace Drug Store's website.  Our pharmacy offers fast, convenient prescription fills, immunizations, prescription delivery, and having your medication packaged in a weekly calendar pack.
Pharmacist In Charge
Randy Smith RPh.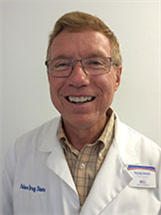 Randy and Linda Smith have been operating Palace Drug Store for almost 40 years, and strive to be innovative in providing all the new advances available in health care.